This post follows on the recent discussion on SNOMED overhaul taking place in the Vocabulary WG last Tuesday, slides, recording and meeting notes available in Teams.
Given multiple debates over Condition vs Observation vs Measurement in the community, the Vocabulary Team has proposed to use SNOMED tags to assign domains in these gray areas.
Here's a snapshot of the presentation.
For example, both Hemoglobin low and Anemia were Conditions. In proposal, we use tags to assign them different concept_class_id, which leads to Anemia staying in Condition domain and Hemoglobin low moving to Measurement domain (and being post-coordinated).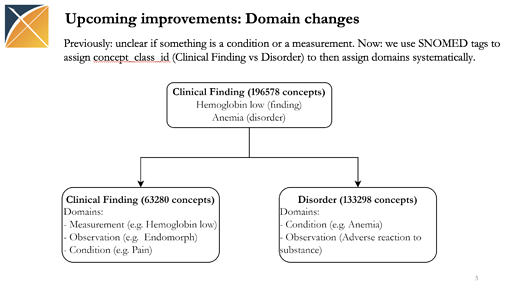 Attached snomed_domain_delta.xlsx (1.2 MB)
is the table with full delta (old domains and new proposed domains). Please check it out and comment here/come to the Vocab WG next Tuesday for further discussion.
Tagging some of the folks participating in the conversation on the last call:
@MPhilofsky, @Andy_Kanter, @DaveraG, @hspence. Please share with others!