Hi Vocab Wizzes
I was unsure where/who to reach out with this so apologies if this is not the right place - please feel free to point me in the right direction.
I believe we have come across an orphaned Concept ID for the medication "Cladribine 10 MG Oral Tablet Box of 1". It's a standard and valid concept but it does not seem to be a descendant of the more general RXNorm standard concept of "Cladribine" as an ingredient.
I paste a screenshot of the hierarchy diagram on Athena for "Cladribine 10 MG Oral Tablet Box of 1" that does seem to be self-referential/not have a "is a" relationship with the ingredient standard concept.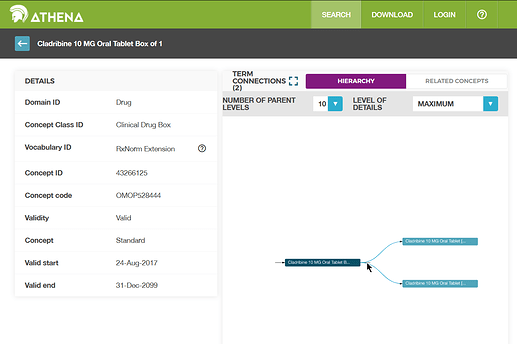 I guess my questions is, if I'm not totally off-track, where do I create a ticket/request to create the parent-descendant relationship between the Concept IDs 43266125 and 19054825?
Thanks
Ty