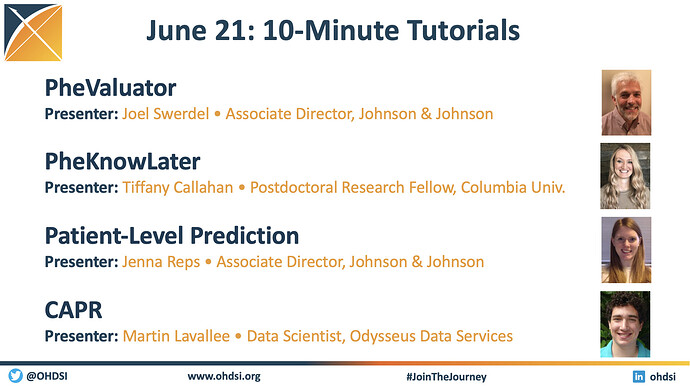 Please join us Tuesday, June 21 (11 am ET) for our next OHDSI Community Call, which will feature four 10-minute tutorials on open-source tools developed within our community to aid our global research initiatives. Tools that will be presented are:
PheValuator
Presenter: Joel Swerdel • Associate Director, Johnson & Johnson
PheKn​owLater
Presenter: Tiffany Callahan • Postdoctoral Research Fellow, Columbia University
Patient-Level Prediction
Presenter: Jenna Reps • Associate Director, Johnson & Johnson
CAPR (Cohort definition Application Programming in R)
Presenter: Martin Lavallee • PhD Student, Virginia Commonwealth University
Everybody is invited. Calendar invites for our 2022 community calls go out each Friday. If you did not receive one, please use this link to join the meeting. All recordings from these weekly meetings will be posted on both our main OHDSI Teams tenant and on our OHDSI.org Community Calls page.