Hello, guys
We used OMOP-CDM v5.4 and downloaded DataQuality Dashboard(v2.0.0) from the site below to run this program.
(site :
However, when we ran it, there were some errors. We need help to solve this errors.
First, we looked up the log_DqDashboard and saw below the sentence(ERROR1):
ERROR1
Dashboard 3 [Level : CONCEPT] [Check : plausibleGender] [CDM Table : NA] [CDM Field : CONDITION_CONCEPT_ID] ERROR executing SQL : org.postgresql.util.PSQLExecute
Secondly, we saw the error reports(ERROR2) :
ERROR2
org.postgresql.util.PSQLException : error : syntax error, near "@"
postion;322
Third, our dashboard score seems weird because verification are a few and validation scores are 0.
(I attached the image)
We considered that DataQualityDashboard did not recognize the CDM table name.
Anyone know any workarounds for these errors?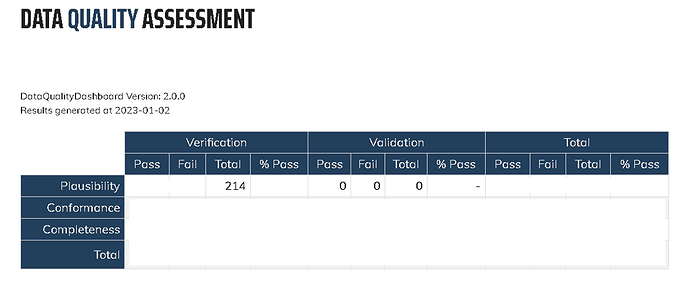 Thanks,
hyojung