Hi @Christian_Reich, @Chris_Knoll,
These questions are related to CONCEPT and CONCEPT_SYNONYM.
First Question -
As per the PDF for OMOP CDM v5.3 , one of the conventions for CONCEPT_SYNONYM is as below :

But we did find that invalid and non-standard concepts are present in CONCEPT_SYNONYM table.
Below screenshots have few such examples -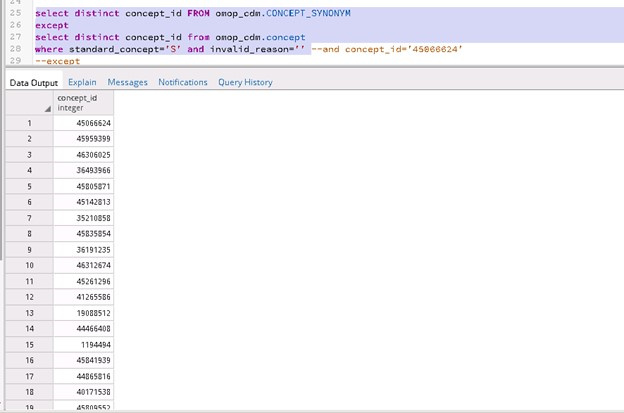 Let's check for concept_id - 45066624.
This is present in CONCEPT_SYNONYM-
This is also present in CONCEPT, but as a non-standard concept -

Second Question -
Standard and valid Concept_ID is missing in CONCEPT_SYNONYM table even though it is present in CONCEPT table.
Below screenshot of CONCEPT table -
The same is missing in CONCEPT_SYNONYM table -

P.S.- All data for vocabularies is downloaded from Athena.
Thanks in advance.