Hello Everyone,
I read the Atlas tutorial [here] (B Cohort definitions | The Book of OHDSI) and watched a YouTube video of the Atlas tutorial as well.
I am trying to create a cohort in Atlas to identify patients who are diagnosed with Hypertension and have an observation period of 1 year and a follow-up of 3 years. For which, I did the below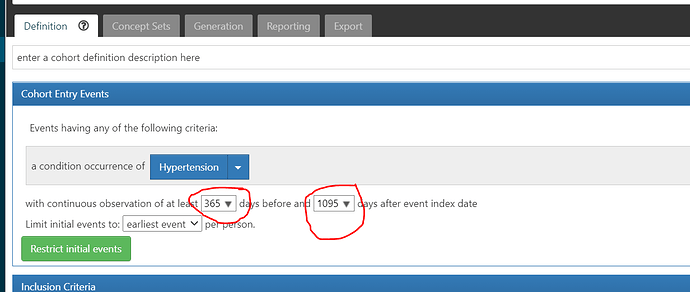 Now from the patients identified above, I would like to see who all qualify for the event of having ACE/ARB.
Basically, Target cohort is Hypertensive patients… The event cohort is ACE/ARB
But the problem/where I struggle is how do I capture people who had continuous exposure of ACE/ARB every 60 days (until the follow-up period)… I only want these people to be in the event cohort.
For example, I would like to identify patients who have been on continuous exposure to hypertensive drugs every 60 days (during the follow-up period of 3 years).
I created something like the below but I believe it will only capture people who had ACE\ARB in the 1st 60 days (of their follow-up)…


But I want to select people who had at least one exposure of ACE\ARB in 0-60, 61-120, 121-180,181-240, etc…till the end of 3 years.