Hello Everyone,
I am trying to do treatment pathway analysis in Atlas and was looking at the paper by Hripscack et al. I was able to see that study has a follow-up period of 3 years…
But may I know why do we look for exposure of one of the drugs in (every) 120 day after index date as shown below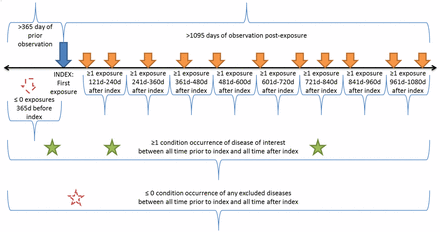 Can someone help me understand in layman terms as to why to use this 120 day window?
I understand it's author's view/idea to have it. But may I understand why was/could it chosen that way?
For treatment pathways, as non-healthcare guy just analyzing data, I tend to look for exposure to one of drugs anytime after index date till 3 years (1095 days).
What's the difference and why to have it as multiple episodes/window of 120 days?
Thanks